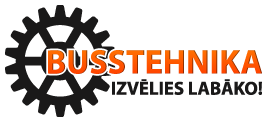 Working hours:
I-V – 8:00 – 19:00
VI – 9:00 – 14:00
Address:
Dobeles šoseja 45
Jelgava
Latvija, LV-3007

MORE THAN 10 YEARS EXPERIENCE!
"Buss Tehnika" Ltd. was founded in 2005, Latvia. We cooperate with the individuals and legal entities. Our team are professional high level specialists in commercial vehicles, trailers, cars and other spare parts with many years of experience on the field. We help choose the parts according to each customer's quality and price requirements. Individually with legal clients is to be agreed credit limit, payment terms and delivery options.
We have established good cooperation with factories throughout Europe (Germany, Finland, France, Great Britain), spare parts and offer a high quality and every customer's expectations reasonable. Realizing commercial specifics offer our customers a high-quality spare parts, which means a longer service life and less frequent repairs.
We accept orders by phone or e-mail.
Delivery Options
If you choose to pay by bank transfer orders through the bank, we will send you an invoice to the order specified fax number or e-mail address.
If at the moment one of the products not available in stock, we will notify you by e-mail or call you. In this case, the delivery time may vary. Supply of goods to carry on working days. After a supply agreement in Riga, Riga district and Zemgale region with Buss Tehnika transport. The rest of Latvian territory with Autopasts or Latvian mail.
Goods can be obtained from our shop: Dobele highway 45, Jelgava.