With a 100-year heritage, Borg & Beck is a global supplier of Commercial Vehicle (CV) components and an established brand within First Line Ltd. The Borg & Beck CV range has expanded impressively over the past 2 years, with new ranges being introduced and references being added across the entire programme to further enhance its portfolio.
The CV programme offers customers a comprehensive range of Brake Discs, Pads and Drums, Steering, Water Pumps, Air and Electrical Coils, and Rotating Electrics offering, a credible alternative to OES. As well as being of the highest quality due to the stringent control processes, the components also come in strong and robust packaging to ensure that parts arrive undamaged and remain highly presentable.
The extensive range of CV components fit key applications, such as DAF, Scania, Renault, Volvo, Mercedes-Benz, MAN and Iveco, which helps factors and workshops maximise business opportunities by being able to cater for the most important references required.
Steering
The Borg & Beck CV Steering and Suspension range includes Drag Links, Tie Rods, Torque Rods, Stabiliser Links, Anti-roll Bar Bushes, V-Stays and associated Tie Rod Ends, which cover all popular applications. The full programme of more than 600 references is manufactured to exacting OE specification and include an E-coating to ensure excellent corrosion resistance for up to 10 years.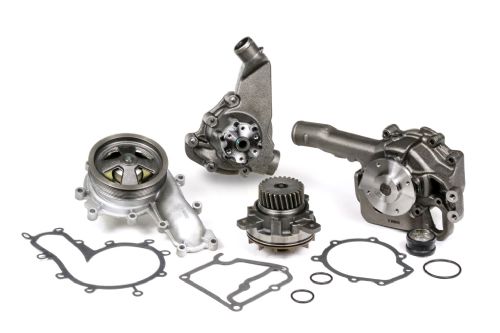 Water Pumps
Borg & Beck's extensive Water Pump range consists of more than 65 references, covering a wide array of applications. To ensure their premium quality, Borg & Beck Water Pumps are manufactured by ISO/TS certified factories and undergo extensive testing. Borg & Beck include gaskets and seals with their Water Pumps, as per OE requirement, to aid fitment.
Rotating Electrics
The Borg & Beck Rotating Electrics programme has more than 70 Starter and Alternator references, covering an impressive range of popular CV applications. The full range consists of brand new units, requires no core return and is therefore subject to no surcharge, which offers distributors an alternative to other aftermarket programmes. Reinforcing the Borg & Beck standards, the Rotating Electrics range is manufactured to exacting OE specification, as well as a 24-month unlimited mileage warranty against manufacturing defects.
Air & Electrical Coils
Some of the most important products on a commercial vehicle are the Air and Electrical Coils linking the tractor unit to the trailer. CV Coils are often chosen on their price, therefore consideration should be given to the specification requirements demanded from fleet operators. Borg & Beck's range includes Universal Air Brake Coils, Compact Coils, 7 & 15 Core Normal and Supplementary Coils, 2 into 1 Adaptor Coils, and EBS Assemblies, offering comprehensive coverage for all key manufacturers.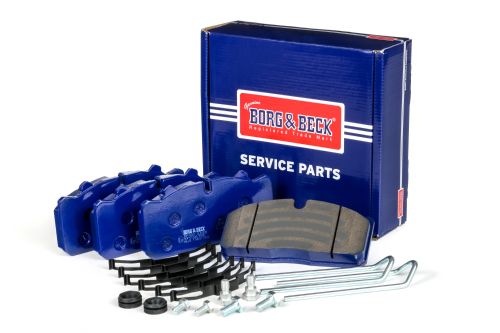 Braking
Recently launched, the range of over 35 Borg & Beck CV Brake Pads are manufactured to incorporate a fine semi metallic organic formulation into the friction element, which delivers excellent performance and durability characteristics that ably cater for the considerable safety demands of the modern truck.
This welcome addition alongside its existing 125 strong Brake Drum and 135 Brake Disc offerings, is further complemented with a full range of Wear Leads. Borg & Beck now enables workshops to source all their Braking requirements from a single source, providing a greater level of peace of mind. Naturally, the entire Braking programme is ECE R90 certified, but as a demonstration of the company's attention to detail and customer focused attitude, the pads also include bedding-in strips to ensure that drivers can rely on their excellent performance from the moment they are installed.